You may be familiar with the fundamentals of digital marketing and have perhaps launched a social media campaign. However, there are many aspects to digital marketing, and they all change at a fast speed, making it difficult to know everything you need to know to carve out a career in the field.
What is digital marketing, exactly? All of your marketing operations that take place online are referred to as digital marketing. Every year, as more people use the internet to explore, connect, and buy, its power to engage clients expands.
According to the Digital 2022: Global Overview Report, there are 4.95 billion internet users. This equates to roughly 63% of the world's population! Mobile usage is also on the rise, with 5.31 billion people currently using their phones to access the internet.
That's a lot of potential customers to reach online, and it's digital marketers' duty to come up with and execute digital campaigns that do just that.
We've arranged this blog into categories to make it easier for you to discover what you need, and if you're not sure what a term means, check out our extensive glossary of digital marketing terms.
What are the digital marketing channels?
When it comes to digital marketing, the range of digital platforms accessible is a good place to start. You may utilize seven different digital marketing platforms to attract traffic, engage prospects, and convert them.
Search Engine Optimization (SEO)
Pay-Per-Click advertising (PPC)
Social Media Marketing
Content Marketing
Email Marketing
Mobile Marketing
Affiliate Marketing
While these are the most frequent digital marketing channels, keep in mind that the digital landscape is constantly changing, so there may be more. Let's take a closer look at each of them.
SEO marketing or website marketing
In digital marketing, search engine optimization (SEO) is extremely important. After all, how and where your content, product, or service is found online is determined by it.
But, in terms of digital marketing, what is SEO? SEO is made up of numerous components, and understanding what they are and how they work is crucial to grasping its significance. The following are elements to incorporate in your marketing:
Keywords – Non-branded and branded keywords with high search rates and minimal competition are known as keywords.
Local SEO – Local SEO focuses on content (directories) and keywords that are relevant to the area.
Off-page SEO – External and third-party backlinks are part of off-page SEO.
Content – Keywords and internal links are sprinkled throughout the article.
Search engine marketing – Paid marketing campaigns, such as Google Ads and PPC, are examples of search engine marketing.
These SEO aspects must be included in your digital marketing strategy if you want to boost your site's exposure and traffic.
Search Engine Marketing (SEM)
Unlike SEO, which focuses on organic traffic, Search Engine Marketing (SEM) is all about maximizing your paid search advertising.
SEM and SEO are a perfect match since they ensure your company has a presence on search engines while also distributing your cash between organic and paid channels.
While SEO and SEM use different marketing tactics, they both need to function together. Keep in mind that both rely on keywords to drive traffic and will become more important as Google rewards good UX and Artificial Intelligence (AI) plays a larger role in content and search activities.
PPC Advertising
You've probably heard the word PPC before, but do you really know what it means? Pay-Per-Click (PPC) advertising is a targeted form of online advertising in which you pay for each click from an ad to your website or landing page.
As prospects are directed to your website or landing page as a result of your PPC campaign, make sure those pages are optimized ahead of time. You must also choose a bidding strategy, conduct keyword research, and set a budget.
If you're new to PPC, this comprehensive guide will teach you all you need to know. You can also use our simple PPC for eCommerce tracker to keep track of your paid campaign spending and goals.
Content Marketing
Although the title "content marketing" implies that this aspect of digital marketing is self-explanatory, it is a difficult field to master. It's simple to create a lot of content for online distribution, but the key is to create great digital content that works.
Video, blogs, emails, webinars, social media posts, and eBooks are examples of content marketing formats that can be used at any level of the sales funnel. Greater site traffic, a surge in subscriptions, increased revenues, and devoted consumers are all advantages of good content marketing.
Check out our TeamTalk video for more information on content marketing.
Influencer Marketing or Sponsored Content
Influencer marketing first gained traction a few years ago and has since grown to become a significant component of the digital marketing landscape. In a word, it's when a company engages on social media with a celebrity, influencer, or industry leader to endorse or support a product or service.
Nearly half of consumers rely on influencers for suggestions, demonstrating how effective it can be. When a cooperation makes sense to an audience, an influencer's true value is realized.
Take, for instance, Travis Scott and McDonald's. The rapper produced a limited edition menu of choice for the fast-food behemoth, as well as selling goods such as sweatshirts and t-shirts, as part of a cooperation known as #cactusjack.
You definitely don't have the funds to hire a celebrity of that kind, but micro-influencers can help you promote your company without breaking the bank. Keep in mind that influencer marketing can also involve native advertising (paid content/advertorial) or online PR when planning your strategy, and utilize this toolkit to keep track of your influencers so you know how relevant they are for your brand and audience.
Email Marketing
Email marketing is a method of sending marketing communications to a specific group of people via email. Email is the earliest form of online communication, and it's still a powerful tool for moving customers through the sales funnel and converting them.
With Google's removal of third-party cookies, email will become even more vital. Companies will become more reliant on email to communicate and convert as a first-party data channel (i.e., information collected directly from customers).
It's a vital medium for connecting with prospects and consumers, so spend some time cleaning up your datasets, tweaking your email marketing approach, and driving subscribers.
Social Media Marketing
Any modern marketer's arsenal should include social media marketing. Through numerous forms of information, it provides engaging and effective ways to communicate with customers.
While there were once only a few social networks to choose from, the number of options is rising all the time, and new people are joining every day. Consider the viral possibilities on TikTok or the live-streaming features on WeChat for advertisers.
When it comes to social media marketing, it's a bit of a jungle out there, so do your homework and pick your channels properly. It's not about being on every channel; it's about being on the ones that are most appropriate for your brand and target demographic.
If you're not sure where to begin or need more information on a certain platform, take a look at our social media marketing resources.
Affiliate Marketing
Although affiliate marketing has been around for decades, many marketers are still confused how to use it to their benefit. What is affiliate marketing and how does it work? It's when a company promotes the products of another company in exchange for a payment for a click, lead, or sale (depending on the deal arranged).
It works as a cycle because the affiliate link is tracked so that it may be linked to a sale and credited to the affiliate. Amazon uses this strategy frequently to lure buyers to its products via third-party websites, and it works well.
Influencers, bloggers, huge publications, and firms that incorporate adverts in their emails frequently employ this tactic. It may be extremely beneficial to firms trying to tap into the growing number of customers who seek third-party or influencer recommendations before making a purchase.
Video Marketing
According to Wyzowl 2022 Research, 81 percent of marketers believe video marketing has a direct and positive impact on sales. Since 2016, video's importance in producing revenue has steadily increased, and video will continue to be a big trend in 2022.
Video is one of the most popular content types, and TikTok's recent focus on video content, as well as Instagram's recent focus on video content, have solidified its importance in audience engagement and lead generation.
Customers benefit from video since it allows them to be educated and informed in a fun and engaging way. It's an important aspect of social media marketing, but it may also be used to boost interaction on your website and landing pages, or to host live seminars in order to collect email addresses.
SMS Marketing
SMS (short messaging service) marketing is a powerful tool for sending promotional or transactional messages to clients who have provided their permission.
According to Juniper Research, global mobile business messaging traffic will reach 2.7 trillion in 2020, up 10% from the previous year due to an increase in online purchasing. Marketers can utilize this channel to interact with customers, offer support, advertise items, and send transactional communications.
Instant Messaging Marketing
When two people engage in a conversation via messaging apps, this is known as instant messaging marketing. It can be text-based or used to send and receive photos and videos.
Over the last two years, this channel has matured and is now being used by individuals all over the world to interact with friends, family, and brands. When Facebook bought WhatsApp, it was clear that this was a channel with a lot of marketing potential.
It allows businesses to communicate directly with clients without the distractions of social media or search engines. KLM and Santander, for example, are already utilizing it to enable queries and changes. If you haven't already, this is a channel to investigate.
Omnichannel Marketing
It's no longer only about internet marketing. It's about cross-channel integrated marketing that complements rather than competes with traditional marketing.
Businesses must utilize an omnichannel approach in their marketing as the consumer journey continues to grow and additional touchpoints are offered. The idea is to create an integrated experience for customers, so that whether they utilize an event coupon or click on a social media post, they have a relevant and simple online trip via your omnichannel ecommerce campaign.
Take, for example, the Starbucks Rewards app. Customers can use the app to add money to their card, which will allow them to make purchases, as well as check and reload the card through mobile, website, in-store, or in-app. Any changes you make to the account, such as adding money, will be updated in real time across all channels. It's a fantastic approach to increase consumer loyalty while also providing a consistent experience.
Operating in separate silos for traditional and digital marketing makes little sense. Using an omnichannel approach for B2B and B2C firms, streamline your marketing processes with the customer at the core.
What are the benefits of digital marketing?
The great thing about digital marketing, as we've already mentioned, is that it allows you to engage customers across various touchpoints.
This implies that you and your company may engage with prospects and consumers in a way that leads to meaningful and ideally long-term partnerships. Let's take a closer look at the main advantages of digital marketing.
Reach new audiences
You're already aware of the billions of people you can reach and impact through social media. But did you know that when it comes to digital, there are no limits?
Unlike traditional marketing, your social media post or blog article can be read by anybody, anywhere, at any time. Online, time zones don't matter, and you can contact individuals on the appropriate days and at the correct moments thanks to scheduling and automation.
You can also reach out to new audiences by creating intriguing content. Create a focused campaign that only reaches that group across relevant digital media if you're having trouble engaging a specific audience.
Enable Hyper – Targeting – location, demographics & psychographics
Through segmentation, digital marketing allows you to target specific populations. This means that in your online marketing initiatives, you can target people based on their geography, demographics (gender, age, job title), or psychographics (goals, desires, and hobbies).
However, before you go after anyone, you must first figure out who you want to connect with. Building a buyer persona is one approach to accomplish this. Simply said, a buyer persona is a representation of your ideal consumer. That doesn't imply it has to be just one person; you can create several personalities to represent your different audience.
Understanding your audience allows you to tailor content and communicate with them on channels that are relevant to them. Download our buyer persona template if you need some assistance creating personas.
Become cost-efficient
Forget about placing an ad in a magazine or newspaper and hoping that someone reads it, or handing out fliers in a crowded retail center and hoping that someone takes advantage of the offer. Digital marketing efforts have the advantage of being trackable and cost-effective.
You may set spending limits across all of your campaigns, whether it's paid search, display advertising, or social media, to keep track of expenditures. This means you may create a daily, weekly, or even monthly budget to ensure you never go over budget.
The simplest method to achieve this is to prepare your budgeting ahead of time and determine your spending limit for a specific time period.
Get measurable results
Digital marketing is measurable as well as cost-effective. You may quickly select and track Key Performance Indicators (KPIs) across digital media.
The key to KPIs is to concentrate on the most important metrics. On social media channels, avoid vanity metrics like likes and comments. Instead, you should establish clear, action-oriented KPIs that provide measurable outcomes such as conversion rates, sales, and income – all of which are important to the bottom line
Personalize & customize campaigns
It's no wonder that relevant and tailored campaigns perform better. According to HubSpot's State of Marketing 2021 study, email marketers' #1 approach is message customization, which increases engagement rates by 20%.
This is true across all digital platforms. Consider your Twitter feed: would you click on an ad that had nothing to do with your interests? Or, when you're browsing a website, do you come across any comparable content? To learn more about the value of personalisation in communication and user experience, watch the video below (UX).
Marketers must develop content that is both relevant and timely in order to break through the online noise. Incorporate customization into your marketing plan to guarantee that you not only reach out to your personas, but also engage them with relevant information.
Easy to adapt or quickly change strategy
Digital is lightning fast. This means you can swiftly modify and change content or advertising. When you find one of your social media initiatives isn't working, this can be a tremendous help. To see if it makes a difference, you can narrow the audience, modify the area, or adjust the messaging.
It's also advantageous to be able to test campaigns or copy. Many marketing teams benefit from A/B testing since it allows them to test two campaigns at the same time to see which one works best.
This prevents you from wasting time and money on a campaign that will never work because you've already determined the optimal path to take.
Engage audiences at different stages of the funnel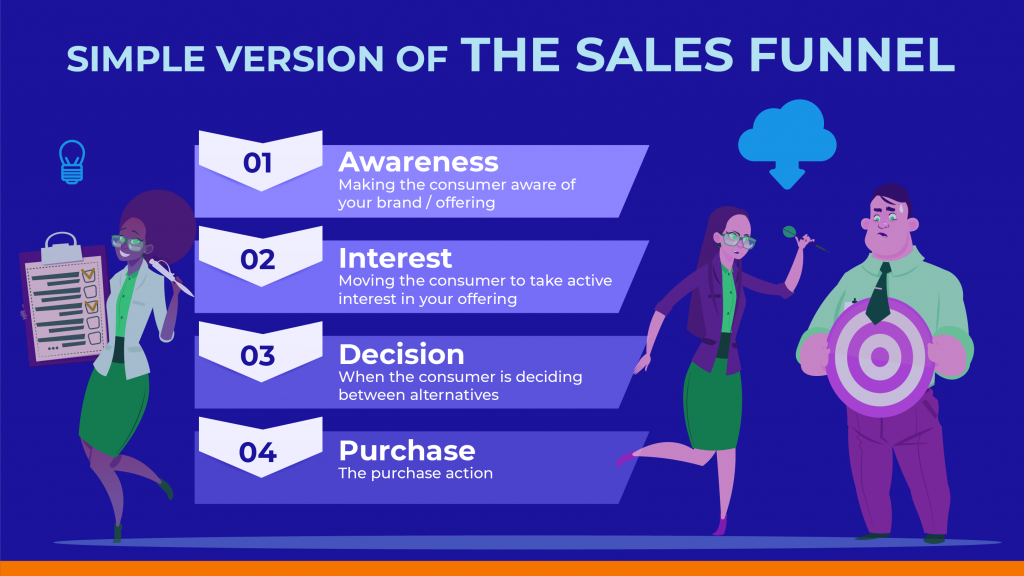 You've probably heard of the marketing and sales funnel if you've been reading about marketing. The funnel is divided into several sections, each of which allows marketers to generate customised content that leads a prospect down a path toward conversion.
As seen in the diagram below, the funnel includes four stages:
Awareness
Interest
Decision
Purchase
Each stage of the funnel requires nurturing in a way that corresponds to the customer's level of intent. A person in the awareness stage, for example, is only browsing and may desire more information about your product or industry. While a person in the decision-making stage requires confidence and legitimacy in the form of client testimonials or reviews.
Level out the playing field for big and small brands
Digital marketing benefits big brands, but it also helps small businesses. The beauty of digital is that it equalizes the playing field and provides equal chances to businesses of all sizes.
You can use customer relationship management platforms to streamline your email marketing and have access to social media networks that can deliver personalized messaging. Budgets for display ads and search marketing can also be set limits to ensure that you stay within your budget.
A huge brand, for example, may have a larger marketing budget and team. Your small business will be successful online if you understand your personality, have identified the important digital channels to exploit, and know what material performs.
What is a digital marketing strategy?
Any successful firm must have a solid digital marketing plan. Its goal is to direct all of your marketing activities, so set up time to research and plan right away.
What makes a good digital marketing strategy?
What makes a good digital marketing strategy?
There are a few measures that can assist you in developing an effective digital marketing strategy:
Set SMART goals – Knowing your objectives, establishing realistic KPIs, and devising a strategy to achieve them are all critical.
Clarify your target audience – Identify your target audience and create personas to pinpoint their pain areas. Don't attempt to be all things to all people!
Conduct an analysis – Analyze your past marketing efforts to see which ones were effective and which were not.
Select your preferred channels – It might be difficult to determine which channels are appropriate for your brand. Conduct research to find outlets that are appropriate for your business and target audience.
Keep an eye on the next big marketing trends – New technology and trends generally benefit early adopters. To acquire a first-mover advantage, be sure you understand what's going on.
Determine a budget – Determine your marketing budget from the start and base your efforts on it.
You'll be well on your way to creating a complete strategy for your firm if you follow those six stages.
What is lead generation in digital marketing?
In digital marketing, the ultimate goal is to produce leads, which is a process of acquiring and nurturing prospects with the goal of converting them into customers. The more leads you have, the better your chances of converting them into sales are.
Knowing your target audience is essential for generating leads. You're more likely to persuade them to give you their contact information if you target the appropriate folks at the right time. As a result, it's critical to map out your consumer journey.
Do you have any idea where your leads are originating from? Are they active on social media sites like Facebook and LinkedIn? Is it an eBook, a free trial, or a discount that motivates people to share their information?
Creating a customer journey map that includes all touchpoints is often the best approach to figure this out. You can personalize content and strategies to drive lead creation once you know who your consumer is.
Inbound vs outbound in digital marketing
Your marketing strategy should include both inbound and outbound marketing. It may be advantageous to do both in order to raise brand recognition and engage prospects.
Outbound marketing is the process of delivering information to a prospect via marketing activities such as events, television ads, and cold phoning. Inbound marketing, on the other hand, focuses on attracting visitors to your website through activities such as social media posts, display adverts, and blogs.
But what are the advantages and disadvantages of each? Let's have a look.
| | | |
| --- | --- | --- |
| | PROS | CONS |
| Inbound Marketing | Cosy-effective | Time consuming |
| | High success rate due to targeting | Requires constant monitoring |
| | Sustainable leads | Very competitive |
| | Measurable leads | Analytics required |
| | | |
| Outbound Marketing | Expensive | One-off opportunity |
| | Can make an impact and drive brand awareness | Hard to measuresuccess |
| | Can build relationships | Resource intensive |
Inbound vs outbound
B2B vs. B2C digital marketing
In marketing, there are two categories of buyers: business-to-business (B2B) and business-to-consumer (B2C), and each requires a distinctive marketing strategy.
The most significant distinction between B2B and B2C is their behavior. B2B customers want to work with other businesses and make purchasing decisions based on rationale. B2C clients, on the other hand, are more concerned with emotion and are wanting to buy something for themselves.
The types act differently in the marketing funnel, as seen in the diagram below. Owing to the amount of stakeholders involved and the nurturing required, B2B deals can take longer to conclude, but the rewards are typically bigger due to the business's value. B2B leads close faster but are usually of lower value, therefore volume is critical for any B2C company.
What are good examples of digital marketing?
There are a lot of amazing digital marketing efforts to look at for ideas. Brands, large and small, are connecting with people through digital platforms in new and unique ways.
Take the Super Bowl in 2022, for example. With a nearly 113 million-strong audience, corporations compete fiercely for advertising spaces, and if you do obtain one, it's critical to stand out. Take a look at Lays, which features Paul Rudd and Seth Rogen, or Uber Eats, which features Jennifer Coolidge, an actress.
On a smaller scale, firms like Patagonia, a lifestyle brand, are generating waves by taking a statement on social concerns through social media. Alternatively, some firms rely on their users to create User-Generated Content (UGC), which is inexpensive and effective at increasing brand awareness.
You don't have to spend a lot of money on your digital marketing strategies. Consider what your target audience is interested in and reach out to them via social media or email. In the end, it's all about getting your brand in front of the right people for the right reasons.
How do you do digital marketing?
If you're interested in pursuing a career in digital marketing, there are numerous opportunities available. Typically, the initial stage is to train as a digital marketer. You will be responsible for generating leads and increasing brand recognition through a range of digital marketing platforms in this position.
When it comes to advancing your job, the most important thing to consider is where your passions lie. Do you prefer to be a generalist that handles a variety of marketing tasks, or do you want to specialize in one area?
We'll look at the various digital marketing positions to assist you figure that out.
1. Do content marketing
The importance of content marketing in digital marketing cannot be overstated. It's how your target audience perceives and interacts with your brand. Because there are so many content requirements in a business, there is no such thing as a regular day. Let's take a look at what a content marketer does.
Written content – Blogs, emails, and website copy are examples of written content.
Video content – Video content is important in both organic and paid channels because it is a medium that generates a lot of engagement.
Social media – Using material shared on social media networks, you may successfully drive traffic and leads.
Gated content – This type of content generates leads by requiring users to supply personal information in order to access it. eBooks and whitepapers are two examples.
2. Manage social media
Creating an editorial or content plan and schedule is an important component of your job, as it ensures you're always producing original content. You'll also need to conduct data analysis to determine which material is effective and which is not.
Every day, billions of individuals around the world check in to utilize one or more social platforms, making social media essential for any organization. This is where social media management comes in, as updating and sharing information on sites like Twitter, Instagram, Facebook, and TikTok takes a lot of time and effort.
Because social media is such an important tool for increasing participation, it necessitates a wide range of abilities.Content generation and distribution, analytics, research, strategy development, SEO, and customer support are just a few examples.
3. Manage SEO activities
You must employ SEO if you want your brand and content to be found. When you use the proper keywords, your material will be seen by the relevant individuals and will rise in search engine ranks.
However, what exactly does an SEO Manager do? When it comes to SEO, there are a number of important duties to complete:
Optimization of the website, social media, and content
Management of website content
Searching for keywords
Backlinks are negotiated.
Strategy
Organization and planning of a campaign
User analysis and website monitoring
4. Do PPC campaigns
B2B and B2B brands use Pay-Per-Click (PPC) advertising strategies to create leads. A PPC specialist is an important member of any marketing team, so let's take a look at what they perform on a regular basis.
Design landing pages – It's pointless to spend money on PPC advertisements that lead to an irrelevant and poorly designed landing page. A PPC expert understands what makes a successful landing page.
Research keywords – Keywords are vital in PPC, just as they are in SEO. A PPC specialist's task is to find the proper keywords and incorporate them into campaigns.
Algorithm watcher – Google's algorithms are frequently tweaked and updated, and it's critical to account for these changes if you want your PPC advertising to be seen.
5. Do search engine marketing
As previously stated, Search Engine Marketing (SEM) is concerned with the optimization of your paid initiatives. But how does a SEM Specialist go about accomplishing this?
Data analysis, writing, SEO, A/B testing, and strategy are just a few of the talents needed to manage SEM. All of this contributes to a better understanding of search engines and rankings.
Finally, this position is responsible for getting all paid campaigns in front of the right individuals through the correct channels.
How do you get into digital marketing?
Digital marketing is an exciting and fast-paced sector with several chances for motivated and enthusiastic individuals. If you think this is the career for you, there are a few things you can do to get your first job in digital marketing:
Get to know the business.
Obtain a well-recognized certification in digital marketing.
Make friends with your peers and industry leaders.
Subscribe to blogs or podcasts that discuss current events and provide advice.
Create a portfolio and a social media profile for yourself.
Look for an internship or freelance digital marketing opportunities.
In an agency, apply for a position as a digital marketer.
These procedures should hopefully assist you in developing your personal brand and making connections that will lead to a wonderful job in digital marketing.