You will have learned the fundamentals of SEO by the time you complete reading this SEO guide.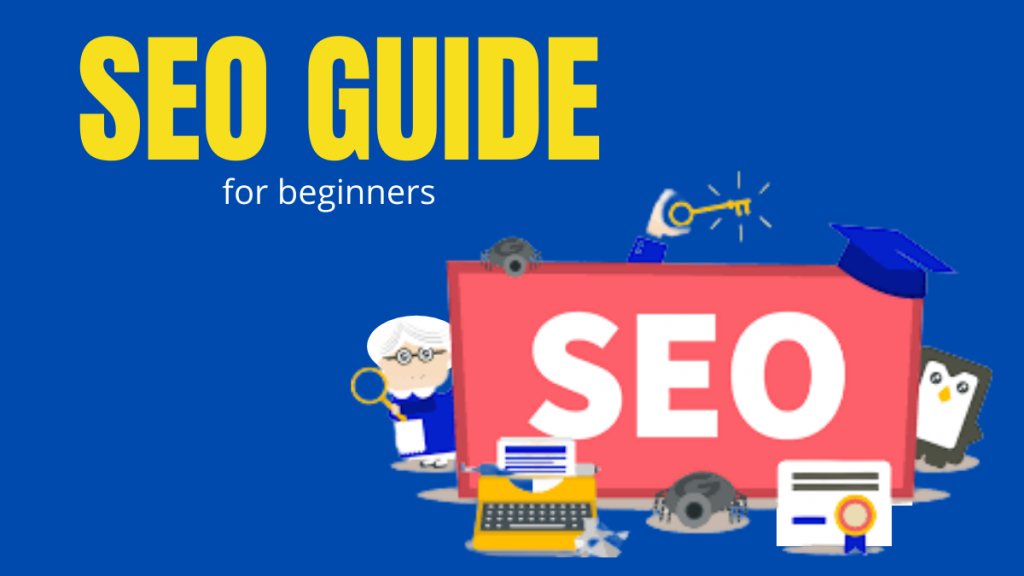 In the recent decade, the term "search engine optimization" has gotten a lot of press. Businesses are hiring SEO specialists and devoting a significant budget for SEO initiatives now more than ever. If you're new to SEO and are wondering what it is and why it's important, you've come to the correct spot for SEO guide.
An Introduction: A Beginner's SEO Guide
To rank webpages, Google and other search engines utilise different algorithms. The website's rating and domain authority are established after a thorough examination of hundreds of factors and crucial criteria.
A brief search on SEO will reveal that it aids in the enhancement of website visibility and allows them to rank higher in search engine organic results. By definition, SEO is the practise of using organic, non-paid tactics to increase website traffic, visitor quality, visibility, brand exposure, and search engine ranking.
The definition of SEO alone will not suffice for newcomers. To further appreciate the value of SEO, you'll need answers to a few more questions. The following are some of the most essential questions:
How can you improve the visibility, traffic, and ranking of your website?
How can you make your website's content more easily found in SERPs (Search Engine Results Pages)?
How do you tell the difference between excellent and terrible SEO practises?
What metrics should you use to evaluate your SEO efforts?
What are the first few steps to getting started with SEO, even if you're a complete novice?
SEO Practices Beginners Must be Aware of
There are many strategies to increase your website's SEO, including:
SEO GUIDE – Keyword research:
Before producing any content, you must conduct extensive keyword research and determine the primary and secondary keywords that must be included in your content in order for it to rank higher.
Keyword research is the process of determining which keywords will appeal to both people and search engines. Companies and corporations use keyword research to uncover terms, phrases, and search queries that their target client base is most interested in. It increases the visibility of their product, service, or information on web browsers.
There are several keyword research tools available online, and choose which one to use might be difficult. You may get accurate keyword data using both free and paid tools. Paid keyword research tools, on the other hand, can provide you with more in-depth information. You can either utilise widely trusted tools or try a less well-known tool as a trial. With regular use, you'll be able to determine which instrument gives you the best results.
On-page optimization:
The second step is to optimize your website's content by using these primary and secondary keywords. Title tags, meta titles, meta descriptions, alt tags, and other on-page optimization operations include adding title tags, meta titles, meta descriptions, and alt tags, among others.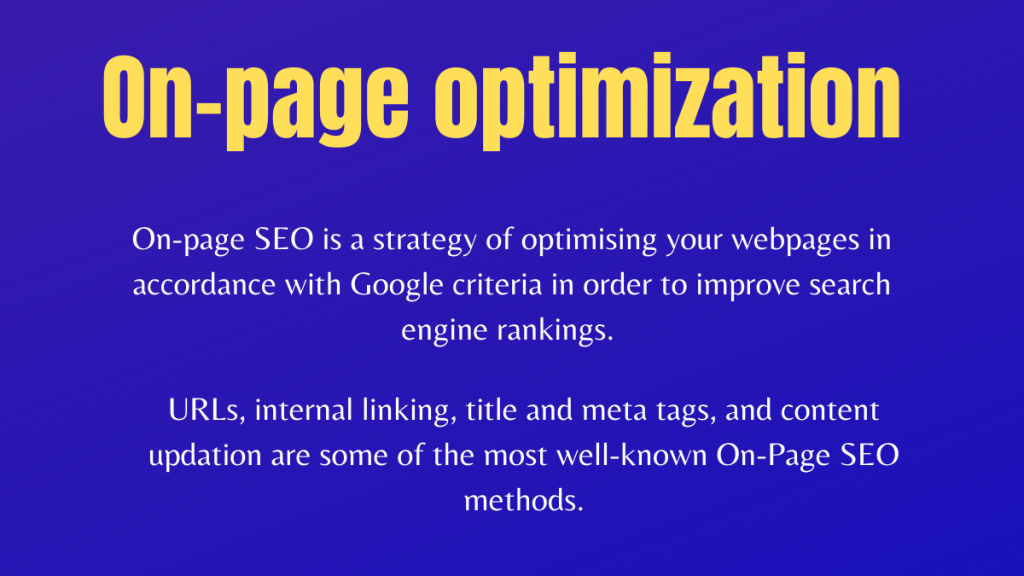 On-page SEO is a strategy of optimising your webpages in accordance with Google criteria in order to improve search engine rankings. This will attract more high-quality web traffic to your site, allowing you to get the conversion you want, whether it's letting people know about your company/brand, getting them to sign up for email updates, or encouraging them to buy your products/services. For the finest, most long-lasting results, on-page SEO approaches must be used in conjunction with technical SEO and off-page SEO tactics. URLs, internal linking, title and meta tags, and content updation are some of the most well-known On-Page SEO methods.
Top On-Page SEO Factors That Affect Webpage Ranking:
Site Speed
Crawlability
Mobile Responsiveness
Content Tags
Multimedia
Keyword Research and Usage
Use of Quality Content
Content Length
Content Freshness
Use of Internal Linking
Use of Schema When Necessary
Use of Simple and Readable Content
Use of Alt Tags
URL Structure
Social Media Sharing
Titles and Meta Descriptions
E-A-T
Keyword Cannibalization
Content Audit
User Engagement
Interlinking practices:
Linking pages on your website to other pages on your website is another crucial SEO tactic. This is referred to as "interlinking."
Internal linking is a technique for connecting one page of your website to another. Isn't it simple? However, it is critical to use this strategy correctly. The drop-down menus and navigation panel on your website already include a large number of connections. Internal linking is a crucial SEO approach when you use your on-page content to utilise internal linking.
Why is Internal Linking Important?
Internal linking primarily aids Google in discovering, indexing, and comprehending the pages on your website, defining your website architecture to the search engine. When done strategically, it can help you move link juice from higher-authority pages to lower-authority pages, which can help you rank higher.
What are the best practices for Internal Linking?
Use keywords in your anchor text
Link from a high page-authority page
Add links wherever relevant in the content
Keep an optimum number of links per page
Link your high-traffic page to top conversion pages
Identify and fix broken links
Interlink between your new and old article
Technical SEO:
Analyzing page performance, making the website and all pages mobile-friendly, header response, redirects, discovering and deleting duplicate content, XML sitemap, and adding Robot.txt are just a few of the technical SEO duties.
The optimization of a site's technical features is referred to as technical SEO. This includes indexing, rendering, and making the website easier to crawl, as well as any other enhancements that will improve the site's visibility.
Technical SEO enables a website to meet search engine specifications aimed at providing users with a seamless Internet navigating experience.
Few Technical SEO Tips to Consider:
Sitemap
Robot.txt
Canonical Tags
Measure SEO:
After you've adopted solid SEO techniques, you'll need to track the outcomes to see if all of your hard work paid off. Organic traffic is a good sign of how well your SEO efforts are working. You may track your website's statistics with a variety of tools; Google Analytics is the most widely used in the SEO sector.
What Next in SEO Guide?
Are you like what you've learned so far about SEO and want to learn more? The next stage is to go in-depth and select an SEO guide to assist you in learning SEO methods, strategies, and tools.
History of SEO:
Do you want to learn more about SEO's history? Let's take a look at the history of SEO and how it's changed through time.
SEO is a Millennial:
SEO is believed to have started around 1991. Around this time, the world's first website was launched, and as websites flooded the internet, one quickly became many. As a result, there was an urgent need for structure and accessibility, prompting the development of the world's first search engines.
Excite transformed the way information was organised in 1993, and Alta Vista, Yahoo, and other companies followed suit in 1994.
However, in 1996, Sergey Brin and Larry Page began work on what would become the world's largest and most well-known search engine: BackRub. Did you expect me to mention Google? BackRub eventually became Google and was registered as a domain in 1997, so you're correct.
What is SEO?
The term SEO refers to the process of optimising a website for search engines. It's a method for increasing the quantity and quality of organic traffic to your website.
Google and other search engines have access to all of the information on the internet and work diligently to organise and index it. This is so that when a user types in a search query, they can get relevant and meaningful results. While Google's search algorithm is well guarded, SEO professionals have seen several tendencies and patterns in the way it retrieves the correct information for users.
When you consider the several patents filed by the world's most popular search engine, as well as the announcements it has made regarding numerous modifications to its search algorithm, we have a very good idea of what will help your web pages rank higher.
Keyword Research
In SEO, keyword research entails identifying essential phrases that clients use when looking on search engines. This helps to
Obtain information about the products and services that a company provides.
Buy the goods or services that a company offers.
Many people use Google to conduct research before purchasing a product or service. As a result, there is a clear opportunity to present a company to the target audience. Your company, for example, sells smartphones in ahmedabad. Assume a consumer uses Google to look up one of the terms below.
Compare oneplus and iphone
Buy smartphone online
Buy smartphones in ahmedabad
Best smartphones 2021
On-Page SEO
On-page SEO is a technique for optimising your web pages in accordance with Google criteria in order to improve search engine rankings.
This is distinct from off-page SEO, which focuses on signals that occurs off of your website (for example, backlinks).
Technical SEO
Technical SEO is crucial since it focuses on ensuring that a website's structure is good and that its users will find it easy to browse.
Search engines give websites with particular technical qualities better treatment in search results — for example, a secure connection, a responsive design, or a quick loading time — and technical SEO is the work you need to do to make sure yours does.
Off-Page SEO
Off-Page SEO refers to a group of operations that you perform outside of your website in order to build links. Off-Page SEO's major goal is to build high-quality, relevant, and trustworthy backlinks.
Improving search engines' and users' perceptions of a site's popularity, relevance, trustworthiness, and authority is part of optimising for off-site ranking criteria. Other trustworthy places on the Internet (pages, sites, persons, and so on) link to or promote your website, thus "vouching" for the quality of your content.
Google Algorithm Updates
The Google search algorithm is a complex mechanism that Google employs to rank websites on the SERP. Take a seat and go through our Google algorithm updates timeline.
The algorithms employed by Google to retrieve content from its search index and offer the best possible results for a query are a complex system. On its search engine results pages, the search engine uses a combination of algorithms and several ranking parameters to offer webpages rated by relevancy (SERPs).
Google Ranking Factors
Search engine optimization (SEO) is a highly dynamic field that continues to change at a breakneck pace with each passing day. While Google's objective of giving the most relevant and reliable information remains the same, new details are added to its ranking algorithm every year and even month. Keeping up with changes in Google Search's ranking algorithm, however, has never been more important.
How to Create Content For SEO
Content that is optimised for SEO is an important part of any successful content marketing plan. Content and SEO work hand in hand, and the correct content can assist expand the reach of a website.
SEO Writing Tips & Techniques:
Write for your audience first
Keep it all under the same roof
Make headlines that pack a punch
Use keyword-rich phrases
Structure your posts
Incorporate imagery
Promote natural link building
Monitor your activity
How to Create Effective SEO Strategy for 2021
An SEO strategy is a method of structuring a website's content so that search engines like Google can better understand a user's search intent.
It's crucial to have an SEO strategy in place since it keeps you on target when developing content. Rather than developing content based on your assumptions about what people want, your approach will ensure that you create content that people are seeking for.
An SEO strategy is a crucial component of content marketing since it determines how your material will be discovered in the first place, particularly in search engine result pages (SERPs). Search engine bots will have a tougher time indexing your site, identifying your area of authority, and ranking your site pages if your material is disorganised and unorganised.